Phelsuma andamanense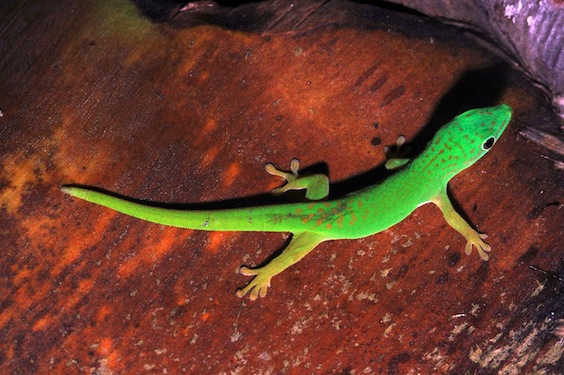 Image © Emmanuel Van Heygen
Distribution
Phelsuma andamanense occurs only on the Andaman archipelago, in the Gulf of Bengal, between India and Myanmar. This is almost 5000 km away from the heart of the distribution area of the genus Phelsuma, Madagascar. When Phelsuma andamanense established itself on the Andaman islands is uncertain, but it must have been by passive radiation. The animals occur on all the larger islands of the archipelago, including North-, Middle-, South-, Little-Andaman, Rutland, Interview and on the Ritchie's Archipelago.
Terra Typica

Port Blair, Andaman islands
Localities

Majabandar, Port Blair
Biotope

Phelsuma andamanense lives on Banana trees, coconut palms, screw pines and on Sisal plants. It is often found in plantations and in and around gardens. The climate on the Andaman Islands is warm and humid all year round, with temperatures ranging from 24° C to 32° C, an average rainfall of 3200 mm and an average relative humidity of 75%.
Synonyms

Phelsuma andamanense - BLYTH 1861
Gecko chameleon - TYTLER 1864
Phelsuma madagascariensis - LOVERIDGE 1942
Phelsuma andamanensis - MERTENS 1962
Phelsuma andamanensis - BÖRNER 1984
Phelsuma andamanense - KLUGE 1993
Phelsuma andamanensis - RÖSLER 2000